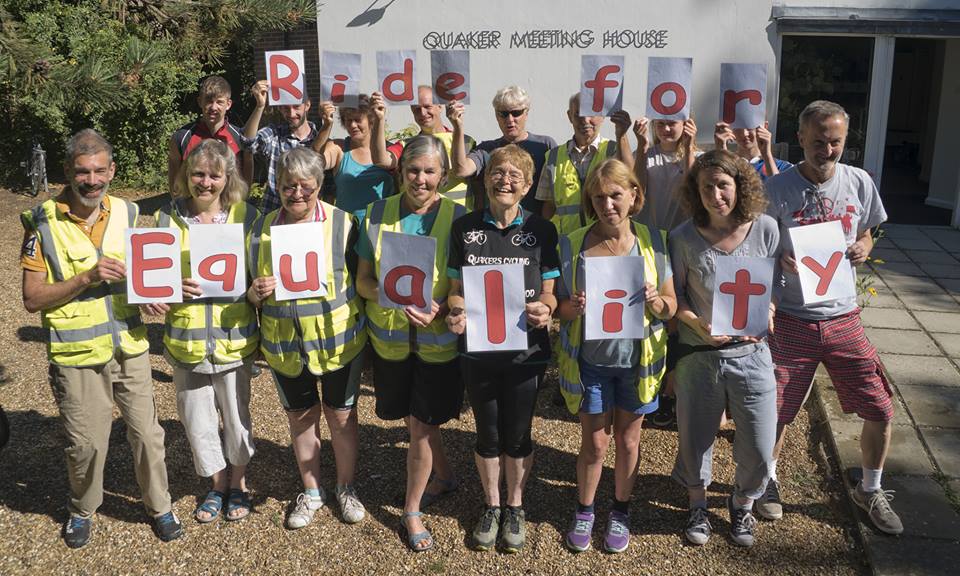 In late July, the Ride for Equality and the Common Good set off on their bikes from Swarthmoor Hall in Cumbria to 10 Downing Street, in protest at rising social and economic inequality.
We were very grateful to Judith Hammond, who chose to raise money for QSA throughout the trip.
"We are following in the footsteps of an early founding member of Quakers, Margaret Fell... 
"In the spring of 1660 in a spirit of non-violence, she rode from Swarthmoor Hall to London to appeal to King Charles II to end the persecution and suffering of Quakers."
Ride for Equality and the Common Good
Judith and the group cycled 360 miles over 12 days, appealing to the government to end the suffering of those who have been affected by recent welfare changes.
We were delighted to hear that Judith also chose to raise money for QSA, and has to date reached an amazing £1,950. You can still make a donation on her page here.
A little bit about Judith in her own words:
"I'm 75, I've been a nurse and a health visitor, I've worked in Africa with VSO in Burundi 1969. I've worked in a hospice and I did my midwifery in the East London.
"I decided to raise money for an appropriate cause & chose Quaker Social Action, an independent charity with Quaker values which helps to lift the poorest. With a friend, I went to their base in Bethnal Green to meet the director and her small committed team to find out about their innovative, and well-evaluated projects."
Feeling inspired?