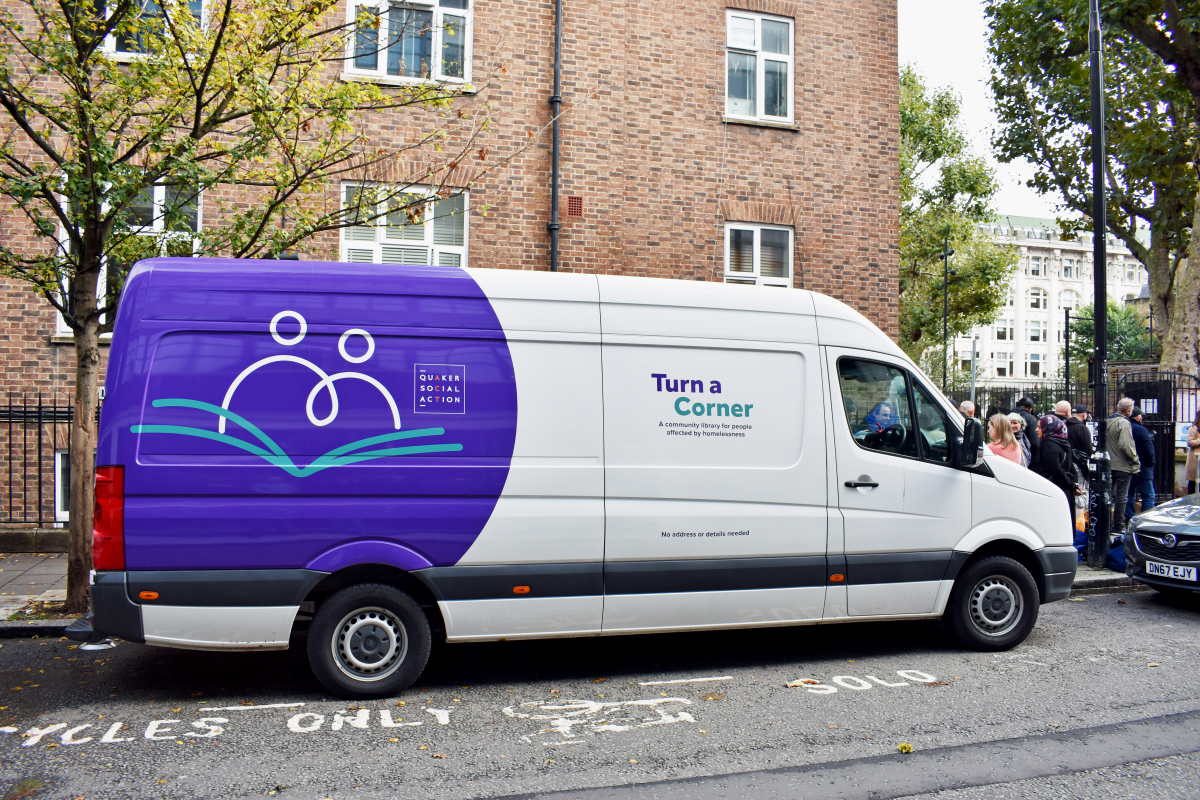 Become a volunteer van driver for Turn a Corner, QSA's new mobile library for people affected by homelessness in London.
What is this role about?
Turn a Corner is a mobile library offering books and conversation to increase wellbeing for people affected by homelessness.  Turn a Corner also acts as a place to listen directly to people who are experiencing homelessness about what their current needs are and pilot creative responses. This is in line with our mission, enabling people to seek solutions to the issues affecting their lives.
What does this volunteer role involve?
Driving the mobile library to various London locations
Conversations with people with experience of homelessness
Basic signposting to other services
Handing out essential items such as coats in the winter, period packs and donated essentials
Helping people to choose books
Basic admin, such as checking in and out books
Willingness to notice gaps in provision for our readers; in library services and more widely
Willingness follow all protocol regarding covid-19
Be part of a shift rota
Willingness to learn and attend training
Willingness to engage with volunteer support, including providing peer support.
Following QSA policies
Able to work independently and take initiative when required.
When can I volunteer?
We ask volunteers to do one or two shifts per month.
Will you pay my expenses?
Yes, we will pay for your travel within London zones 1-6 and we will pay £6 for a meal on the day you volunteer.
What experience do I need?
You need to hold a full UK Driving license (category B). Experienced drivers preferred.
What personal qualities do I need?
People who do well in this role:
are friendly and enjoy talking to people face to face
show understanding, discretion and empathy to our visitors
show initiative rather than wait for instructions
can co-operate with other volunteers and have a positive outlook
can be relied on to attend regularly, on time
are interested in books
What will I gain from this role?
Being part of a friendly community of volunteers
Providing and receiving mutual support
Helping to develop this new project
Interesting conversations with the library's visitors
You will also gain transferable skills including:
Van driving experience

Written and verbal communication skills
Admin skills
Research skills
A first aid qualification
Other
After three months' volunteering we will supply you with a reference.
How to apply
To apply, please get in touch with Sam Cook: samcook@qsa.org.uk