In Volunteers' Week we thanked our fantastic volunteers and shared one inspiring example - John Bulloch, a longstanding volunteer with our Turn a Corner mobile library for people affected by homelessness.
Volunteers provide vital support to many of Quaker Social Action's services, contributing around 2,000 hours per year to our frontline work alongside people living on low incomes or affected by homelessness.  As Volunteers' Week 2023 (external link) draws to a close, we would like to pay tribute to each of our much-valued volunteers - illustrated through the story of one of them, Turn a Corner's John Bulloch.
Turn a Corner
Turn a Corner is Quaker Social Action's mobile community library service for people affected by homelessness in London.  Each week the library van visits several locations in central London, addressing the need for human connection for people affected by homelessness, through conversation and books.
Turn a Corner provides:
A friendly mobile community space for people affected by homelessness
A free library lending service – no fixed address or membership required to borrow a book or audio book
Guidance on connecting with other local services that offer support to people affected by homelessness
Takeaway resources and donated essential items for people experiencing homelessness such as sleeping bags, clothing, hygiene products, SIM cards and mobile phones.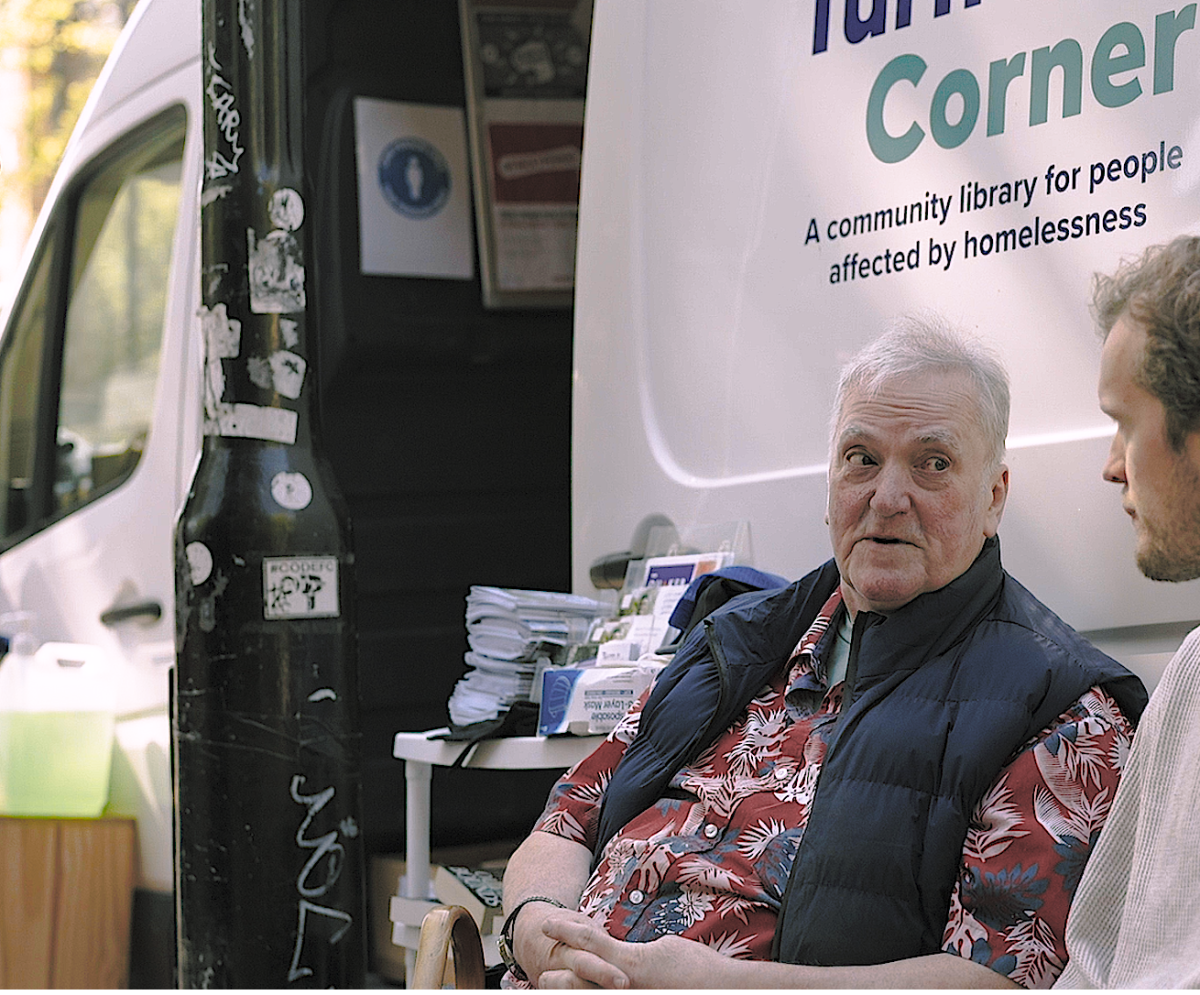 2004 - John gets involved
Back in 2004, when John himself was homeless, he was supported and encouraged by staff and volunteers of the mobile library.  (At that time the mobile library was run by Quaker Homeless Action, which subsequently became part of Quaker Social Action in 2020).  Several people working or volunteering for the mobile library were instrumental in helping John to get back on his feet at that time.  These same people told John that they would be honoured if he would become a volunteer for the library himself.
Although unsure at first, John agreed, and over the first two years of volunteering he established himself as a much valued member of the team.
15 years of service
John didn't stop there however, and he has now completed an exceptional 15 years of service in total.  He continues to volunteer regularly and with great dedication, providing compassionate and companionable support to people who are currently affected by homelessness, as he once was.
"The only way I will stop is when I feel I cannot be of use anymore".
John, Turn a Corner volunteer
Whatever the weather, John is out with the mobile library three days per week for all of our sessions, talking and supporting those who are experiencing homelessness with great empathy and wisdom, as well as often donating items of need to distribute.
John's typical Turn a Corner session
He has put so much of himself into the service and is known by so many.  During a typical session, John will support visitors with friendly conversation, passing on wisdom and sometimes survival tips about living on the streets, from his own past experience.  He assists our readers to choose books based on what they are looking for, as well as following up with them on how they found the book.  John is understanding of our visitors' other needs, and helps to distribute essential items.  John's lived experience has also proved invaluable in advising the staff team on the types of essential items that are most needed by people living on the street.  John's is a friendly and familiar face, and he helps guide people to other services for example to access food.
Award nomination
This year we have nominated John for a Volunteer of the Year award with Third Sector magazine.  We believe that an award would be a fitting tribute to John's inspiring commitment and compassion.  At QSA we are all keeping our fingers crossed that John will win this prestigious national award.
"John is all you would wish a volunteer to be. A very empathic non-judgmental listener with a wonderfully wicked sense of humour which brightens the darkest days."
brian (name changed to protect privacy), A visitor to the mobile library