Final evaluation report from the Learning & Work Institute about Move on Up - QSA's partnership project with Commonweal Housing - makes recommendations and highlights young adult carers' homelessness risk.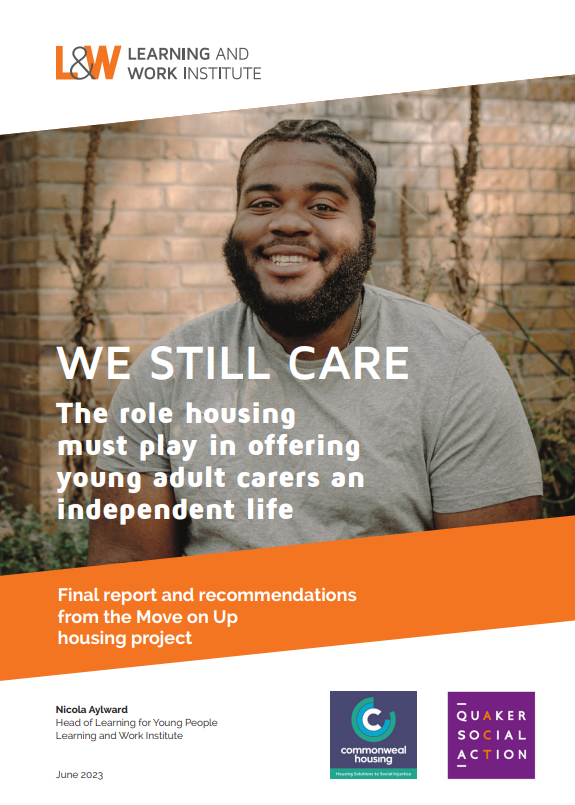 Homelessness risk
Unpaid carers aged 16-25 face potential homelessness unless their housing needs are urgently met in policy, the new report has warned. 
Awareness of the housing support needs of this cohort, known as young adult carers, is currently low across policy and practice. However, the risk of homelessness among young adult carers is often high and hidden, and this is likely to become more severe as the ongoing impact of the cost of living, housing and social care crises intensify.
Conclusion of unique pilot project
The report was produced by independent research organisation Learning & Work Institute (external link) and funded by QSA and Commonweal Housing (external link), following the conclusion of Move On Up, a seven-year pilot housing project for young adult carers by these two charities.
The unique housing project was designed to address the overlooked housing needs of carers aged 18-25, who face significant challenges while caring for family members in their own home. Participants in the project struggled with mental and physical exhaustion, the lack of access to education and employment opportunities, along with other pressures often faced by young people as they transition to adulthood, all of which is common among the wider young adult carer cohort. 
Move on Up provided individual support to young adult carers to help them seek solutions to issues affecting them - alongside good quality shared housing in east and north London for up to two years per person.  After six years, Move on Up has now come to its scheduled closure.
Call to include housing need in carers' assessments
Data from the 2021 census shows that there are over 272,000 young adult carers providing £3.5 billion of unpaid care per year (external link), however experts suggest this is significantly lower than reality, in part due to many young people not recognising themselves as carers and reluctance to disclose.
This is worsened by the absence of housing in the requirements for carers' assessments, the assessments that are required to be undertaken by local authorities under the Care Act 2014. This has led to a lack of awareness among practitioners of young adult carers' housing needs, leaving them unmet and contributing to youth homelessness.
To counter this, the report calls on the Department for Health and Social Care (DHSC) to issue guidance to local authorities setting out a requirement to assess young adult carers' housing needs when conducting transition assessments, and that local authorities ensure that transition assessments are routinely conducted.
The report contains a number of other recommendations for national and local government, carers' organisations, housing and homelessness organisations - and for further research.
Ciaran cared for his mother, who has mental health difficulties, from a young age, and also played a significant caring role for his sibling who has a disability.
Life was difficult for Ciaran, and at times his mother was abusive towards him. Ciaran finally decided to leave home and was homeless for a while. He was then housed in a hostel and referred to Move on Up by a youth charity. Ciaran is now studying at college and is aiming to go to university. He no longer cares for his mother but still visits his family regularly. Ciaran finds it quite difficult to build trusting relationships due to his childhood experiences and tends to be very cautious in what he shares about himself. However, he has gradually become more settled at Move on Up, has regular support meetings, and is getting on well with his house mates. He has found a part-time job that fits in with his studies that helps him to pay the rent.
Case study: Ciaran, a Move on Up Participant (not his real name)
Ashley Horsey, Chief Executive at Commonweal Housing, said: "For too long, young adult carers have been the forgotten cohort of carers, going under the policy radar and left without the state support they desperately need, despite the billions in unpaid care they provide. Multiple converging crises are leaving these young vulnerable people on the brink, and without housing support and joined-up government action, homelessness could become a genuine reality for a generation of young adult carers.
"We thank Nicola Aylward and Learning and Work Institute for this vital inspection of the injustices that young adult carers face and the role that government, local authorities, care and young people's services, and housing providers must now play in ensuring that housing sits at the root of the support offer to young adult carers. A quarter of a million young people depend on it."
Judith Moran, director at Quaker Social Action, said: "When we first started researching the needs of young adult carers, especially around housing, nearly a decade ago, we were shocked by how little information we found. It was absent from the policy debate, absent from the agenda of carers' organisations and absent from the agenda of the housing sector. It is still – largely – absent. We hope this report lifts this issue into greater visibility and get the housing needs of young adult carers firmly on the radar of those involved in both policy and practice. Time for change, time for action."
Andy McGowan, Policy and Practice Manager for Young and Young Adult Carers at Carers Trust said: "The 2021 Census and other recent research all consistently highlight how young adult carers are a group of carers under increasing pressure because of increasing levels of caring responsibilities. It is therefore vital that this group of carers is proactively considered across policy, research and practice.
"Carers Trust really welcomes this report covering young adult carers and housing, an important policy issue rarely covered to-date. It highlights how partnerships between local carer services and organisations such as housing providers are key if we are to bring about real change for young adult carers and their families."
Acknowledgements
QSA would like to thank the following social investors for making Move on Up possible:  Quaker Homeless Action (which subsequently merged with QSA in 2020), Commonweal Housing, City Bridge Trust and Esmée Fairbairn Foundation.
Move on Up was also made possible through a large legacy kindly gifted to QSA by one of our late supporters, plus a number of other grants and donations.
We would also like to thank all of the QSA staff who have led and been involved in Move on Up, and the partner organisations who have worked with us during the project – including referral agencies and people who have helped Move on Up residents to achieve positive move-ons.  Finally, thank you to the residents of Move on Up for sharing their stories and calling for change.